The system composing of 2 engines, which are car plate detection engines and car plate recognition engine to translate from image to text data, which also can provide the car brand and colours of the car.
Software Specification
• Use Video Loop Detector to detect license plates. No coil or sensor needed to
detect the car.
• Automobile license plate detection which do not catch people or animals.
• 95% accuracy for numbers and letters on labels.
• 50% accuracy for car brand detection. (customization required for new market)
• 50% accuracy for vehicle color depends on lighting conditions.
• The system supports speeds of up to 180 km/hr. It depends on the camera used.
• Can be used as a mobile license plate reader on the Mobile Patrol Car.
• VIP Alert, Member, Blacklist
• Automatically announcement car registration as Blacklist/VIP alerts with Text to
Voice technology.
• Real Time Synchronize with external database. To connect with the central
software.
• Supports SQL database, MySQL, Oracle.
Features of Camera Detection
• High resolution Network Camera, The license plate is more accurate (**
Recommended resolution of the license plate is 150-300 pixels).
• A camera that can change the distance of the lens. To get the desired image
range. The size of the lens is about 12-40 mm or 8-50 mm.
• Low pass filter technology for bright lighting (Headlights) to get a clear picture.
• Infrared For night vision
• The camera supports IP66-rated base when used outdoors.
There are two types of car registration.
• Parking license plate system in the parking lot. Entrance – Exit the building. The
characteristics of the vehicle will run at relatively low speed. The speed of the car
up to 60 km/hr. The camera should be a lens that can change the size of about 4-18
mm.
• High Way Road Vehicle Registration System The characteristics of the vehicle
that will be detected will run at relatively high speed. Introducing a camera
designed specifically for license plates. And can change the lens. The lens should
be approximately 12-40 mm or 8-50 mm.
Equipment required for installation
• IP Network Camera and Housing
• Infrared illumination kit (in low light areas and night vision)
• Specially-formulated PC processor, Core i7 Gen7 3.0GHz or higher, 8GB RAM,
500GB SSD
• Power Supplies for Local Devices
• Network Switch
• Webserver Kit (for central administration)
• ADSL Router (if you want to link and view data centrally)
License Plate Recognition Diagram
Centralized Management License Plate Recognition Diagram
The central control system has a central Web server that collects information from
the camera's installation site. It can display information on devices such as
computers, tablets, and mobile phones.
** If you want to do Web Server for Access, central information. There will be a cost
to install the CMS Software.
Restrictions of LPR system
• View and position of the camera. Must be tested before actual installation. For the
most accurate and accurate results.
• The license plate that the camera can handle should be sharp, ranging from
150-300 pixels, to provide accurate and accurate information.
• If you want to capture the red license plate. And the license plate is a graphic
card. Set the camera to a black-and-white Night Mode by using the Infrared
Illuminator to capture the license plate of the type clearly.
• he license plate is damaged or unclear. Apart from the Department of Land
Transport. This may reduce the accuracy of the data.

Bad and illegal license plate.
Examples of software work
Samples of software work in Laos
Samples of software work in Cambodia
Preview of the program while running (Live view)
Example of a search engine.
Menu example for car registration.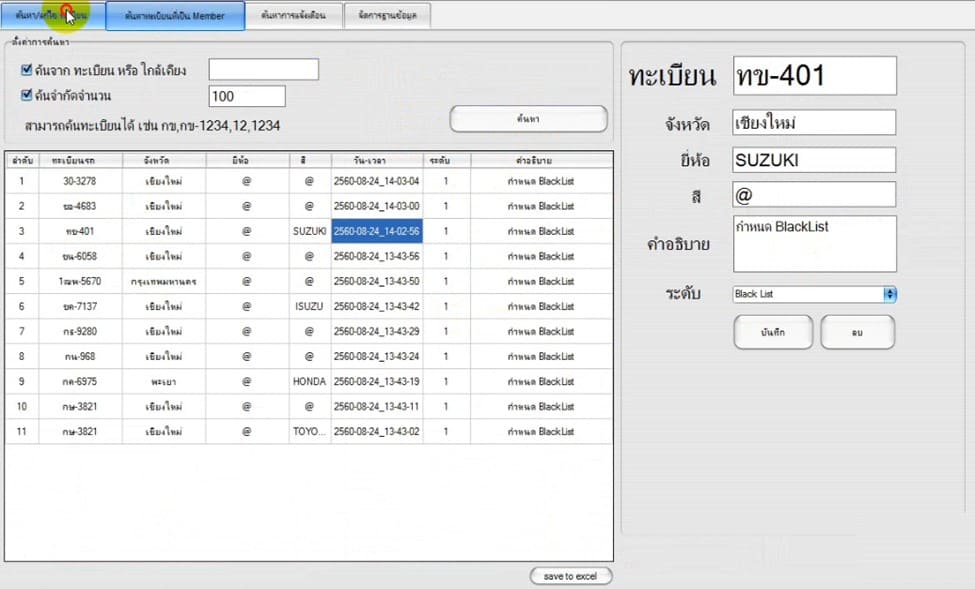 Web-based Browser